The Incredible
Edible Garden
Learn simple skills to create a thriving permaculture food garden at home, to feed you and your family.

Based on 606 student reviews


Create your own edible garden with simple steps



Learn from Morag Gamble, who has 30+ years' experience



Gardening help for all countries, locations and climates



Connect with a vibrant, like-minded community
Whether you're a total beginner or an established gardener, whether you own your garden or are renting, you'll gain valuable tips and guidance from Morag Gamble's very simple and accessible approach to natural gardening.
Includes 6 core lessons PLUS 3 bonus modules when you sign up this month!
Now $297 AUD — monthly payment plan available


Create Suberb Soils



Make Your Own Garden



Grow Abundant Food



Collect a Food Forest Bounty



Grow a Superfood Garden



Grow a Medicinal Garden



Grow a Beauty Garden



Grow a Tea Garden



Cook a Garden Feast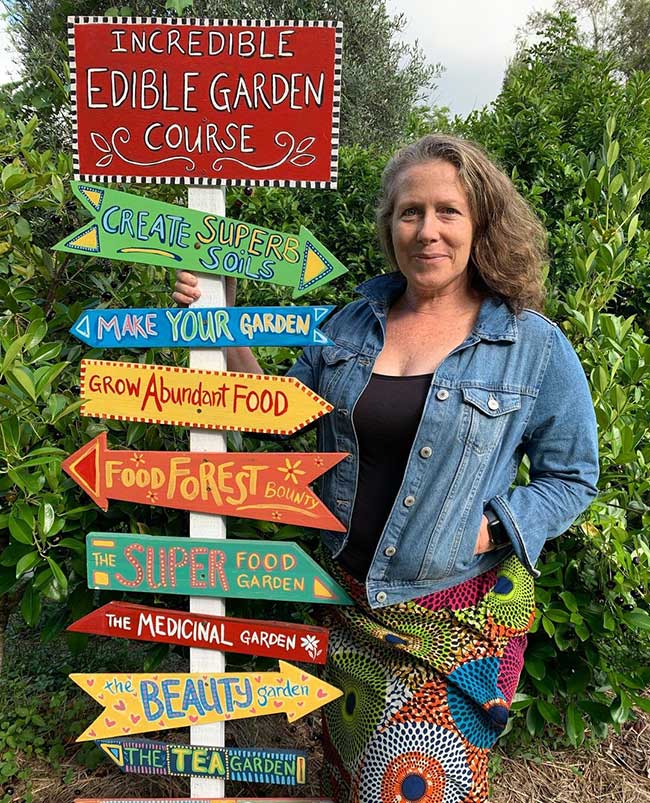 Join experienced teacher Morag Gamble for this practical, hands-on permaculture gardening course
This incredible course has been created by expert Morag Gamble, who has over 30+ years experience in gardening and permaculture. Morag is the founder of the Permaculture Education Institute of Australia and has a Masters in Sustainability Education.
Guided by Morag, you will learn how to:
Garden from the ground up, starting with caring for your soil.
Create the most efficient garden using permaculture practices.
Grow a thriving veggie patch — no matter what space you have.
And so many other simple and helpful steps to create your own incredible edible garden.
Plus: kids under 18 study free with a paying adult!
We welcome home-schoolers, un-schoolers, world-schoolers and schoolers — the program is flexible and spacious.
This course is a comprehensive, self-paced introduction to permaculture design and permaculture gardening, with lifetime access to all information and resources.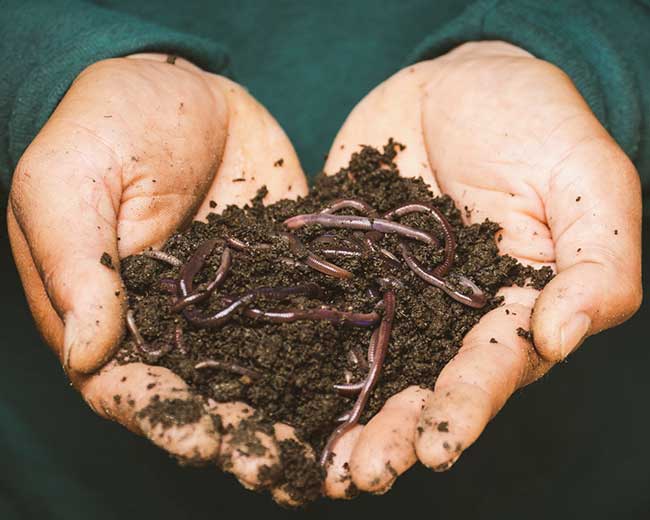 MODULE 1: Create Superb Soils
Every good garden starts here. Healthy soil is the basis of nutritious food and our own health. So, this module teaches you how to rapidly activate your soil life, protect soil and build new topsoil. Learn how to feed your soil and nurture beneficial organisms. Discover the power of worms and compost, learn recipes for compost teas, and understand how to harness the benefits of bokashi, mycelium and mulch.
Resources include:
Three Simple Ways to Make Compost
How to Make a Simple Comfrey Tea
Build Your Own Worm Tower
How to Use Mulches & Green Manures
MODULE 2: Make Your Garden
Learn simple and effective strategies to set up your garden area, no matter what space you have available. Plan and create a thriving garden using a range of Morag's approaches — from her special no-dig method to verandah pots. Discover ideas and strategies for urban, suburban and small acreage gardens, plus community and school gardens too.
Resources include:
Types of Edible Gardens — loads of ideas!
Garden Design Tips and Tricks
Watering Systems for Your Garden
How to Make a No-Dig Garden
Gardening With Children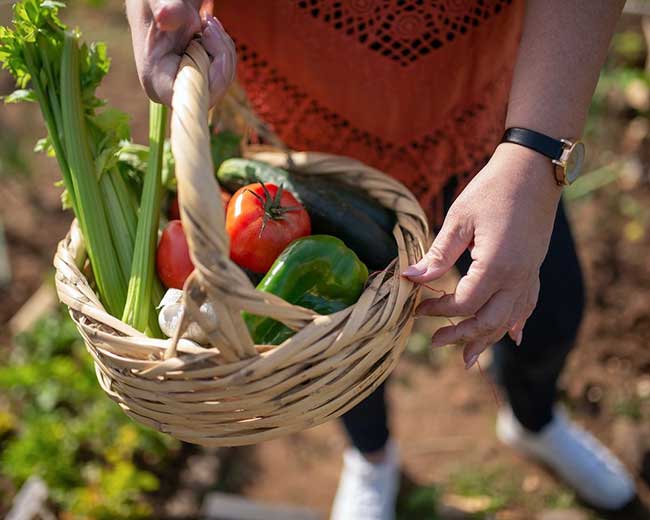 MODULE 3: Grow Abundant Food
Make the most of your kitchen or backyard garden — discover how to create a low-maintenance edible garden full of vegetables, herbs, flowers, fruits and medicines, plus self-seeding and perennial edibles. Learn how to choose plants that thrive, how to plant with the seasons and ways to cultivate diversity in your own garden space. Then learn five basic ways to propagate your food and fruiting plants, so you'll have an abundant, thriving garden all year round. 
Resources include:
5 Easy Ways to Propagate Food and Fruiting Plants for Free
Growing with the Seasons and Cycles
The Long-Living Edible Garden
The Self-Seeding Garden & Seed Saving Techniques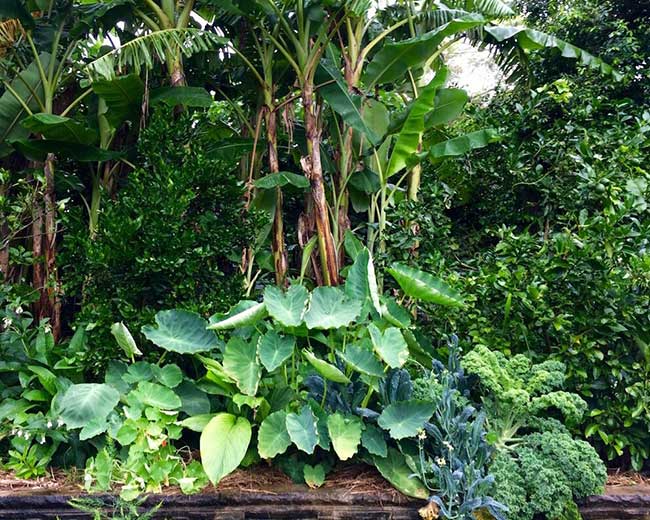 MODULE 4: Create a Bountiful Food Forest
Set up a wonderfully productive mixed food forest — beyond your veggie patch. This is a natural way to create your home orchard for maximum yield, lowest input and highest sustainability. Work with the seasons and the lay of the land to produce a bountiful, low-maintenance section of garden that produces for you with very little input required. These are permaculture practices at their best.
Resources include:
How to Start & Manage a Food Forest
Plants for Subtropical Food Forest
Plants for a Temperate Food Forest
Making a Mini Food Forest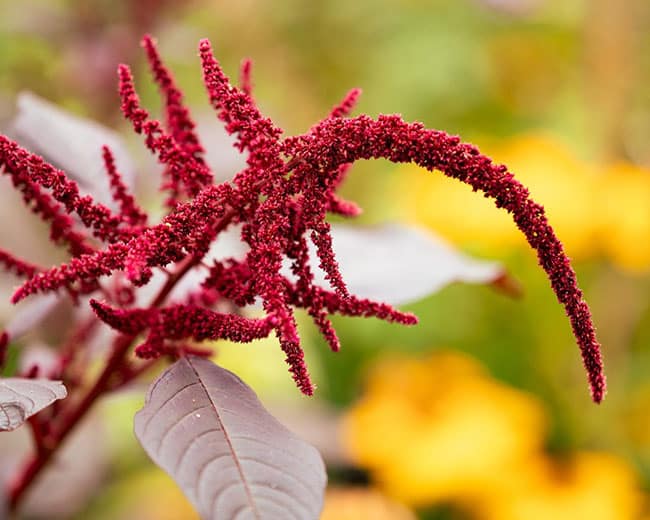 MODULE 5: Grow a  Superfood Garden
Many of us know that superfoods are good for human health, but did you know they're often simple to grow yourself, too? Explore many common superfoods that are easy to grow at home, and how you can harvest and use them for you and your family. Eat these plants regularly to help keep you healthy, strong and resilient.
Resources include:
What is a Superfood?
'How to Grow' Guides for superfoods including Amaranth, Chia, Buckwheat, Moringa, Aloe Vera, Cruciferous Greens, Berries and more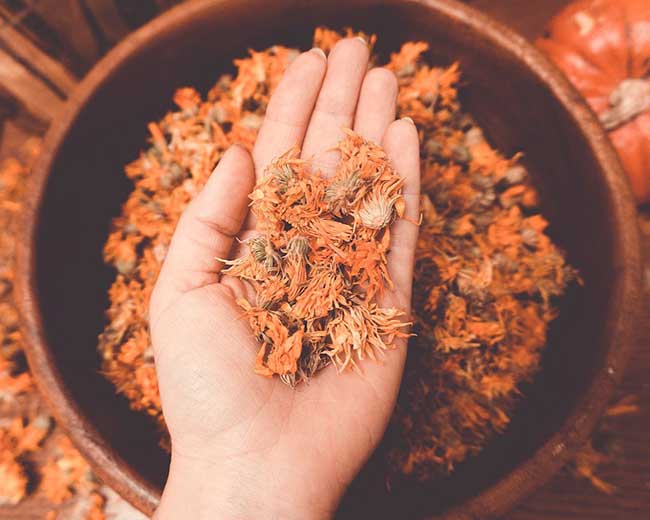 MODULE 6: Grow a  Medicinal Garden
Make your garden your first aid kit. This module teaches you to identify plants and flowers with medicinal properties. Learn which plants will help and heal, what they are for and how to use them. You'll be surprised how many common plants are also great for natural healing.
Resources include:
Selecting Plants for Your Pharmacy Garden
'How to Grow' Guides for medicinal plants including Lemon Balm, Calendula, Yarrow, Tarragon, Chamomile, Dandelion, Aloe Vera, Tulsi, Nettle, Lemon Myrtle and Comfrey
How to Make Your Own Herbs, Oils and Salves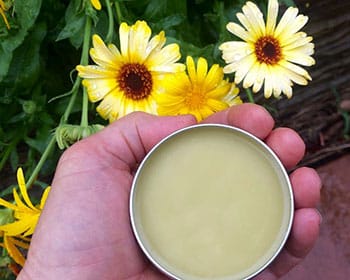 BONUS 1: Grow a Beauty Garden
Grow plants to use directly on your hair, face and body. Learn base recipes with tried-and-tested ratios that you can later adapt for your own skin and body.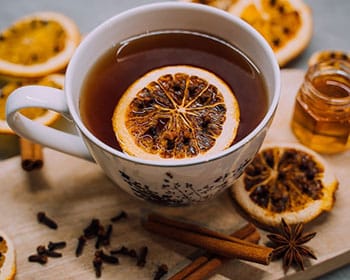 BONUS 2: Grow a Tea Garden
Learn how to use native plants, fruits, flowers and even weeds to make delicious, healing and health-giving drinks — both hot and cold — for the whole family.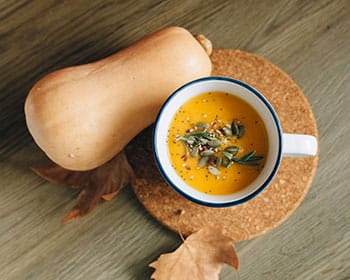 BONUS 3: Cook a Garden Feast
Make the most of your edible garden's abundant produce — learn how to harvest from root to shoot and create delicious meals directly from your garden.
Create your own Incredible Edible Garden!
Discover the joy and abundance of permaculture gardening.
About your teacher: Morag Gamble
Morag is a popular teacher in the field of permaculture, with enormous practical experience spanning more than 30 years across 20+ countries.
She lives a simple permaculture life within a subtropical eco-village in Queensland, Australia. The eco-house Morag built with her family is surrounded by abundant and award-winning permaculture gardens, an edible oasis she designed herself and eats from daily.
Everything in this course stems from Morag's extensive personal experience. Every strategy, tip and recipe she has tried and tested herself.
As well as being very practically experienced, Morag is a global ambassador for the permaculture movement:
She holds a Masters in Sustainability Education and a Postgraduate Diploma in Landscape Architecture.
She was directly accredited as a permaculture teacher by Bill Mollison (co-founder of permaculture).
She founded the Permaculture Education Institute, through which she offers the first online Permaculture Educators Program.
Morag works with elders and youth in permaculture globally via the Permayouth and Ethos Foundation non-profits she established.
She amplifies the voices of global permaculture thinkers and educators via her own weekly podcast and YouTube channel.
Morag has taught at universities, schools, eco-centres, villages, urban farms, community centres and farms around the world, and lectured for years in Food Politics.
Morag has taught permaculture for almost 30 years and always has dirt under her fingernails!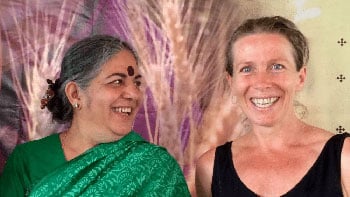 With two program graduates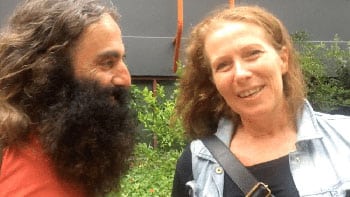 With Gardening Australia's Costa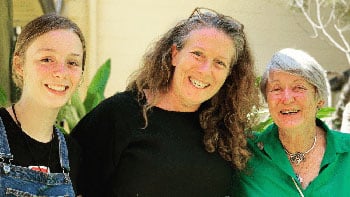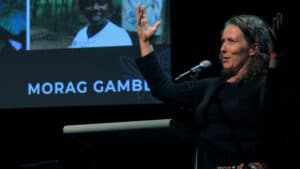 At a major speaking event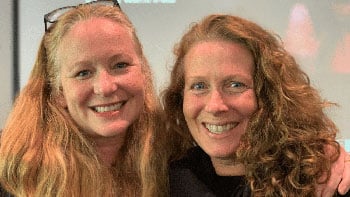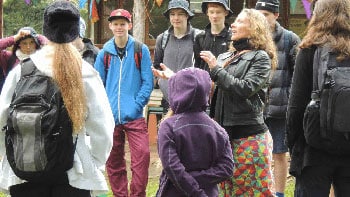 What our students & graduates say:

"I am absolutely loving the course. I can't wait to finish work every day so I can go home and continue with it. I'm learning so much and Morag Gamble is a wonderful teacher."⁠

"Before starting the course, I hadn't planted a single seed nor thought about composting. I was a complete newbie to the permaculture world. Now I feel confident to grow my own kitchen garden and even design a food forest."

"It's been a real privilege to learn from such a caring permaculture teacher.  Every bit of effort is given to the student's learning experience. Thank you, Morag, for sharing so much and being a light into the permaculture future."
7-Day Money Back Guarantee | Lifetime Access to all Course Materials | Safe & Secure Payment

Sign up & start now — $297 AUD
Save $165 with free access to 3 bonus modules.
Payment plan available — six payments of $50/week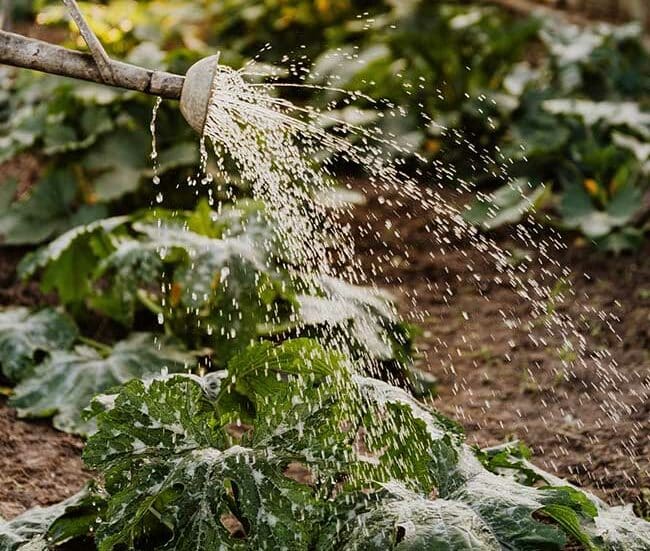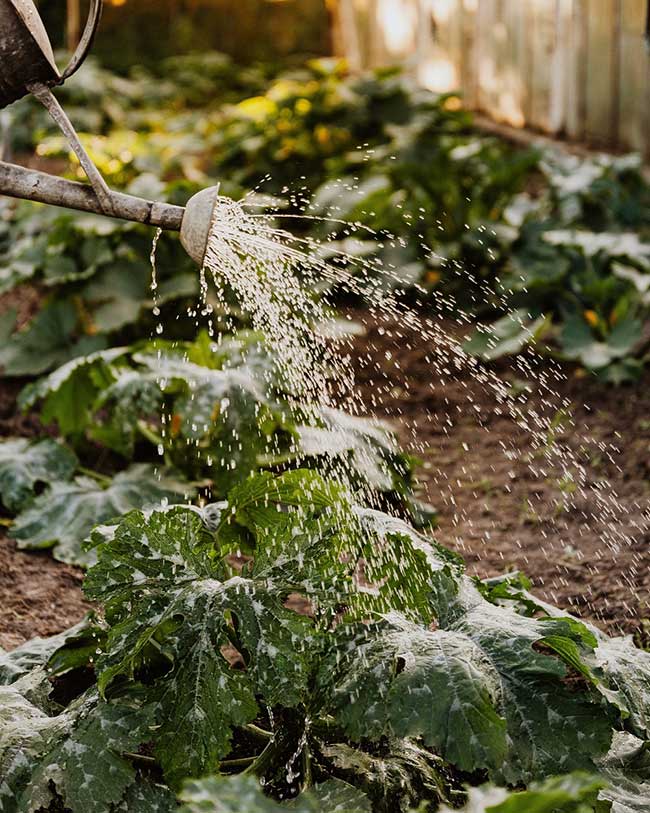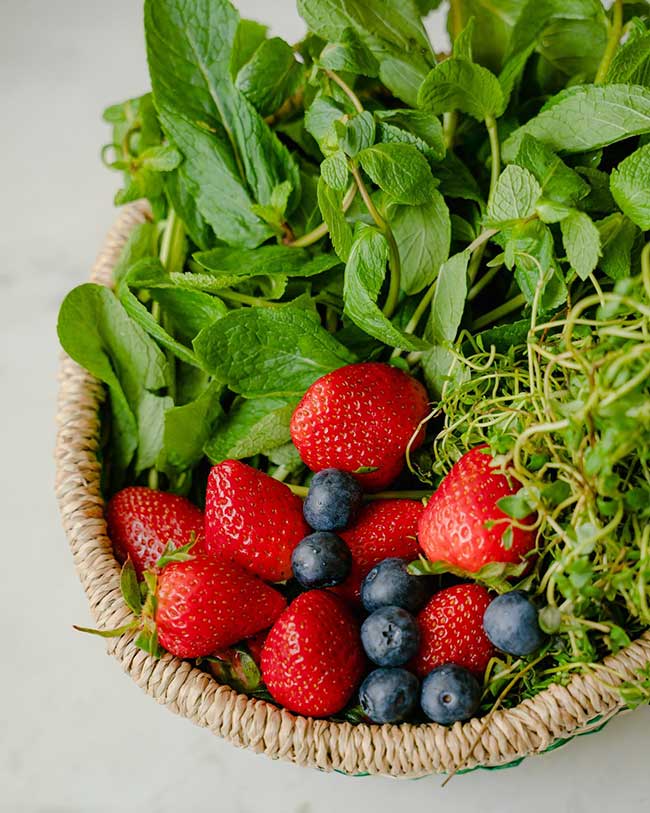 Fair Share scholarships for refugees & youth
Our Institute tithes funds to our partnered charity, Ethos Foundation, to support permaculture projects globally. We practice what we teach and embrace permaculture's Fair Share ethic by offering scholarship places to women and young people in the majority world — to those who would never have the chance to access a course like this due to economic disparity. We also support indigenous students, refugees and displaced peoples.
Frequently Asked Questions
When does the next course start?
You can start our program at any time! You don't need to wait for a specific date to get started, as we accept students on a rolling basis. As soon as you sign up, you will receive an email with access to the course, so you can get started immediately. You then have lifetime access to the course materials.
How long does the course take to complete?
The Incredible Edible Garden course has 6 core modules and 3 bonus modules delivered weekly. You have lifetime access to the course materials, so can study at your own pace.
Are payment plans available?
Yes! To help make your course more affordable and accessible, we offer staggered monthly payments of $50 per month, spread over 6 months.
Do I need to have a garden?
Ideally a garden, small or large, is helpful to complete this course. However, you can also 'borrow' a garden to start learning, or get involved in a school or community garden.
I live in a different climate to you. Will this course be relevant for me?
There are students attending this course from 6 continents and a wide range of climates and environments. The permaculture ethics and principles can be adapted to all contexts.
Will I have direct contact with Morag Gamble?
Yes. Morag is very active within the group. She takes a keen interest in how everyone is going and loves when you participate in the discussions, and share ideas and questions.
Lots of others also respond to questions and comments. This is a really wonderful learning community. The more you lean in, the more you will learn and feel connected.
Are scholarships available?
We do offer scholarships for community leaders and youth living in the global south. Please contact us to discuss.
Morag's teaching & work has been featured in…