• MONTHLY ONLINE WORKSHOPS •
Learn effective permaculture marketing skills to amplify your impact & make a real, sustainable living.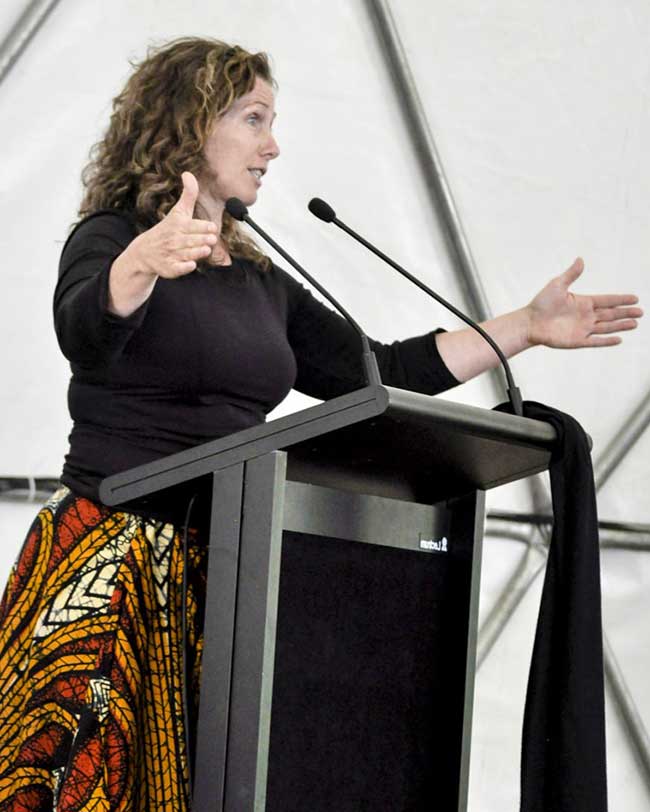 Do you need help promoting your permaculture business or offering — especially in this age of digital communication? 
Join the Share Permaculture marketing course and gain expert guidance from global permaculture ambassador Morag Gamble and other leaders.
Over 12 months, and always with a permaculture focus, you'll learn storytelling, branding, website design, social media, podcasting, online events, graphic design, PR and more.
Choose which topics you want to attend — each workshop is just $47.
Live workshop session and follow-up live tutorial two weeks later
Presentations hosted by leading marketing experts
Challenges to help you generate new ideas
All recordings available to watch later (or again!)
A space to connect with others exploring these ideas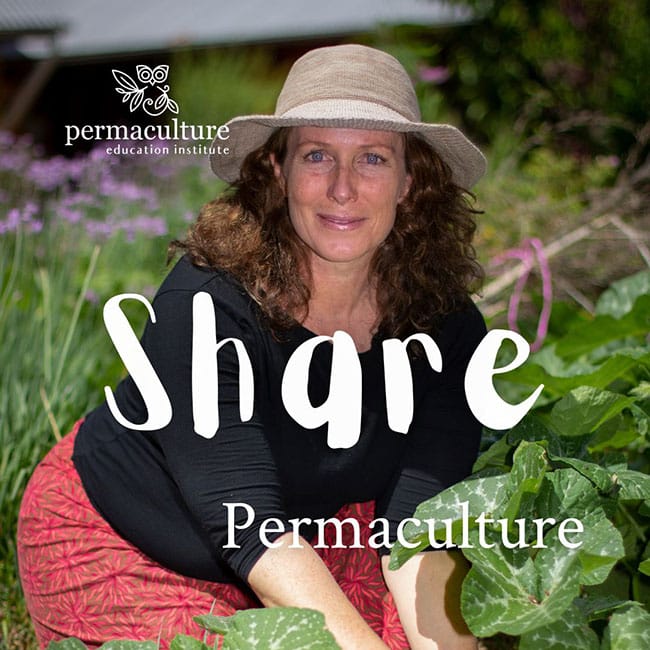 Get your permaculture stories out into the world
The Share Permaculture marketing course is led by award-winning teacher and designer, Morag Gamble, who founded the Permaculture Education Institute.
I have drawn on three decades of permaculture experience to personally design this program for thought-leaders, [pr]activists, doers and those wanting to share widely about permaculture or make a living in permaculture.
In my 25 years as a global permaculture ambassador, I've spent thousands of hours and dollars learning how to effectively share my story.
To make it quicker and easier for you, I've gathered my knowledge, lined up key experts and bundled these practical skills into a rolling year-long program.
These skills are kind of like a collection of wonderfully hardy perennial seedlings that you can plant and grow quickly to help your project or business find deep roots and strong branches.
Inside Share Permaculture, you will be invited each month to an exclusive live workshop and Q&A. You'll also get handouts, worksheets and project ideas, and have a dedicated 24/7-accessible community space to share, learn and communicate.
It's these exact skills and tools that have helped me become a globally recognised permaculture voice and gain media coverage in magazines and publications across the world.
I warmly invite you to join this friendly and practical community for a wonderful year of learning how to share permaculture — to make a difference and a living both locally and globally.
Together, with a permaculture focus and ethic, we will deep dive each month into a different way of sharing permaculture…


YouTubing



Podcasting



Social media tools



Graphic design


Finding your story



Creating your brand



PR & traditional media



Writing effectively


Website design



Blogging



Running online events

L

And more!
Monthly workshop topics — held live, online
January – DIY Graphic Design with Canva
February – How to Start Your Permaculture YouTube Channel
March – How to Create a Permaculture blog
April – How to Host an Online Permaculture Event
May – Branding Your Permaculture Business
June – Organising Your Social Media
July – How to Get Your Story into Mainstream Media
August – How to Start a Podcast
September – Finding & Sharing Your Story
October – Website Design 101
November – Getting Writing
December – Developing Your Communications Strategy
Choose your live workshop topic
Join Workshop
Choose the topic that most interests you!

Attend one live session on that specific topic, hosted by Morag Gamble and friends of the Permaculture Education Institute.

This session will be recorded for you to watch later (or again!).

Also includes a live follow-up tutorial, where you can ask for feedback and assistance as you apply the skills.

Live Q&A sessions allow you to ask questions directly to marketing experts.

Challenges to help you generate new ideas

Fair Share scholarships for refugees & youth
Our Institute tithes funds to our partnered charity, Ethos Foundation, to support permaculture projects globally. We practice what we teach and embrace permaculture's Fair Share ethic by offering scholarship places to women and young people in the majority world — to those who would never have the chance to access a course like this due to economic disparity. We also support indigenous students, refugees and displaced peoples.
"The world needs to hear more permaculture stories. I want your permaculture enterprise or project to thrive and be part of the
positive change the world needs

."
~ Morag Gamble
Founder & Permaculture Teacher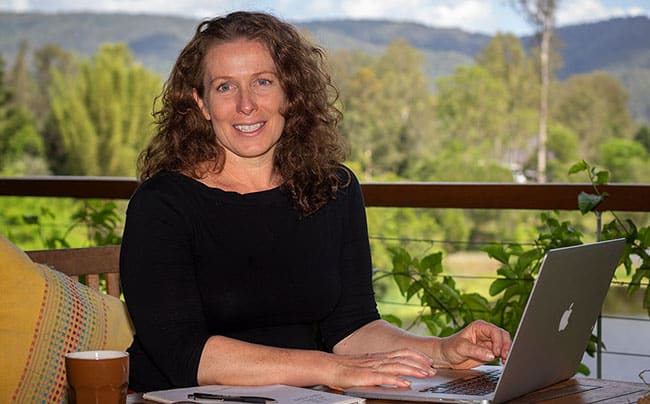 Learn skills to make a living doing what you love
For almost three decades, I've generated almost my entire income from permaculture-related education, projects and design.
That's aside from a few years as a part-time food politics lecturer at university when my kids were little, a year as an graduate environmental officer in State Government, and some time working a tutor in my teens (flute, saxophone, maths and physics — yep, physics!).
I know the skills we are bringing together here in Share Permaculture are the 'difference that will make a difference' in your permaculture program or project.
These skills will help you to make a real living doing what you love, with permaculture at the core.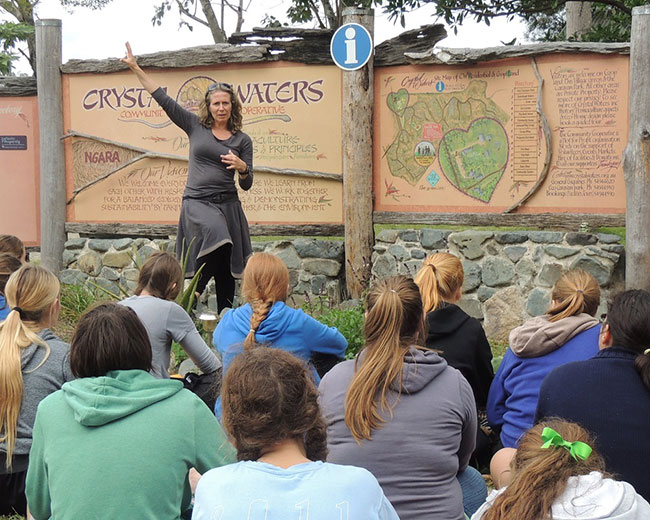 What you get when you sign up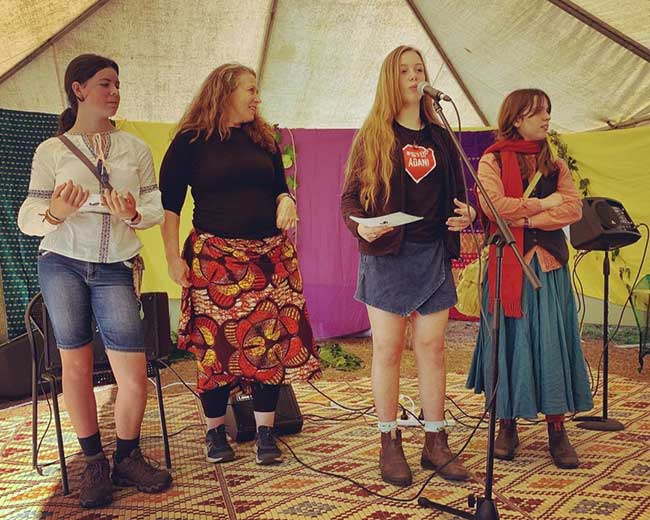 A very warm welcome!
Your live workshop delivered to your computer, wherever you are in the world.
1 years' access to the workshop content.
Access to our student coaches to assist with any questions & support you need to be completely successful in your course.
New friends & collaborators – connection to a friendly, helpful and supportive community of practice – an online forum to connecting all Permaculture Education Institute students and teachers around the world.
Your permaculture business promoted through the Permaculture Education Institute's network.
12 months access to the Hive – a new online dynamic global learning community.
About your lead teacher: Morag Gamble
"I discovered permaculture more than 30 years ago, in my teens. It felt like an immediate natural fit — a way to care for earth and people and to create ripples of positivity in the world. For me, permaculture is a positive life purpose."
Morag is a global ambassador for the permaculture movement:
She holds a Masters in Sustainability Education and a Postgraduate Diploma in Landscape Architecture.
She was directly accredited as a permaculture teacher by Bill Mollison (co-founder of permaculture).
Everything she teaches, she has tried herself. She lives a permaculture life within a subtropical eco-village in Queensland, Australia.
Morag works with elders and youth in permaculture globally via the Permayouth and Ethos Foundation non-profits she established.
She amplifies the voices of global permaculture thinkers and educators via her own weekly podcast and YouTube channel.
Morag has taught at universities, schools, eco-centres, villages, urban farms, community centres and farms around the world, and lectured for years in Food Politics.
Morag is a certified Warm Data Host with the non-profit International Bateson Institute.
Morag has taught permaculture for almost 30 years and always has dirt under her fingernails!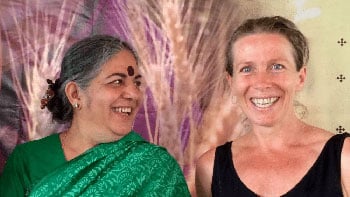 With two program graduates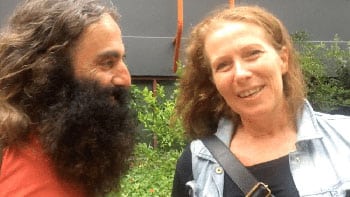 With Gardening Australia's Costa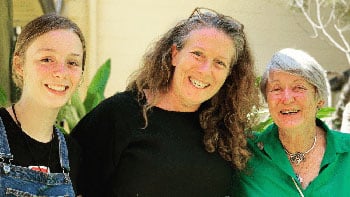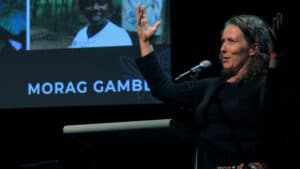 At a major speaking event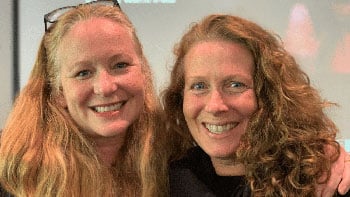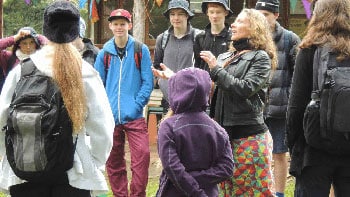 Start telling your story in places and ways that many more people can hear, bringing more attention to your work, and supporting your ethical permaculture business.

Sign up to your chosen workshop topic today – $47 AUD
+ Your first 12 months access to Hive are free with this program (normally valued at $470).
Frequently Asked Questions
How long does each session take to complete?
This is a rolling 12-month program of workshops and learning. Your 1-Year Membership gives you access to a full 12 months of content. You can choose to purchase a second year membership upon completion of your first year, if you want to dive even deeper.
Do I need to have a permaculture business already running?
Not necessarily. The Share Permaculture marketing course will give you skills to promote any project or income-generating venture. You might apply this to an existing offering you are currently running, or skill yourself up before launching to help ensure success.
These skills are also transferrable to businesses or ventures that aren't directly related to permaculture. Upon completion, you will know how to ethically and sustainably market any business.
Will I have direct contact with Morag Gamble?
Yes. Morag is very active within the group. Morag leads workshops and communicates directly with students in the various social forums. She takes a keen interest in how everyone is going and loves when you participate in the discussions, and share ideas and questions.
Lots of others also respond to questions and comments. This is a really wonderful learning community. The more you lean in, the more you will learn and feel connected.
Are scholarships available?
We do offer scholarships for community leaders and youth living in the Global South. Please contact us to discuss.
Morag's teaching & work has been featured in…