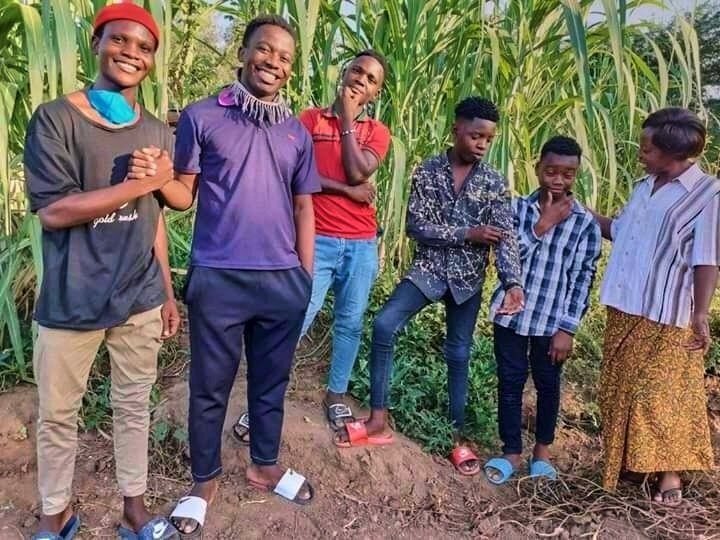 Sumaili Nyange (left) is a young refugee who has grown up at Kakuma Refugee Camp – one of the largest refugee camps in the world (almost 200,000 people), in northwest Kenya. 'Kakuma' actually means nowhere in Swahili. Life is hard in the desert with daytime temperatures average 40c/104 degrees, with grinding hunger, little to do and no real sense of a future.
Sumaili makes amazing music with his band, the Ambassador Crew – members aged 14-20 years old. They have just received a grant to create a permaculture music video studio from The Rex Foundation (created by The Grateful Dead) which he hopes will help improve their life and inspire the youth. Sumaili writes music and directs films with the limited resources he has.
He sees this as a way to rapidly spread accessible regenerative permaculture strategies – food resilience, composting, water harvesting, cooperative enterprise – throughout his community and wake them up to positive action, for a better future.  Their next goal is to add the audio recording studio equipment. A friend at Crystal Waters, Amanda, is organising house parties and musicians like Hayden Hack are donating their time.
Sumaili is a co-founder of Kakuma Permayouth and contributes music to every monthly Global Permayouth Festival. He is a most trusted and highly respected member of the permaculture community in the camp. He attended a permaculture course for youth sponsored by the Ethos Foundation and the Permaculture Education Institute – led by Sakina Kiriba. Sumaili is now teaching permaculture with Permayouth across the neighbouring camps – Kakuma and Kalobeyei.
Here are a couple of their original Permaculture songs. This first one grabbed people's attention in August last year and even won a Re-Alliance prize!
The first Permayouth Ambassadors Crew music video – an award-winning clip.
Water – The latest song from the Permayouth Ambassadors Crew
Sumaili's sees music and film as a most powerful way to empower the youth of both Kakuma and the neighbouring refugee settlement, a new camp, Kalobeyei.
Sumaili has enormous creative talent, and stays in touch with us regularly to share how things are going in all his projects. He is a dedicated member of the Global Permayouth and attends and presents at each monthly event. He has performed to the founder of Permaculture, to ABC Gardening Australia host, and to other leading permaculture people.
Sumaili's studio is going to be an amazing community resource, and he will bring people there to be empowered – to find their hope and courage.
We are currently raising funds for the studio completion. Already, with your help, we have crowd-funding to support the recording of their first 4 songs and the purchase of solar panels, a laptop, speakers and microphones and a phone. Thanks to everyone who helped!
We hope you are able to continue to support Sumaili and his band, the Ambassadors Crew, and help them reach a wider audience to bring positive change in the lives and plight of refugees in this almost forgotten corner of the world.